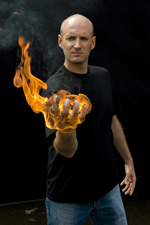 Colin Decker • IMDb
Fire For Hire is a complete fire-stunt service for film and television. Partners Dustin Brooks and Colin Decker are stunt professionals with over 20 years experience who joined forces in 2004. Together, they have executed some of the most amazing fire stunts the industry has ever seen.
Dustin Brooks • IMDb
Along with their expertise, Brooks and Decker bring their unique-formula protective fire gel to the set. The gel can be applied directly to the skin, then doused with fuel and set ablaze for the startling effect of bare flesh on fire. The duo also uses the gel in more conventional stunts as a protective underlayer when setting costumes on fire.
This special product is available exclusively through Fire For Hire, and is what sets this team apart. If your script calls for a fire stunt, bring Fire For Hire on board, then sit back and feel the thrill of watching your production ignite.